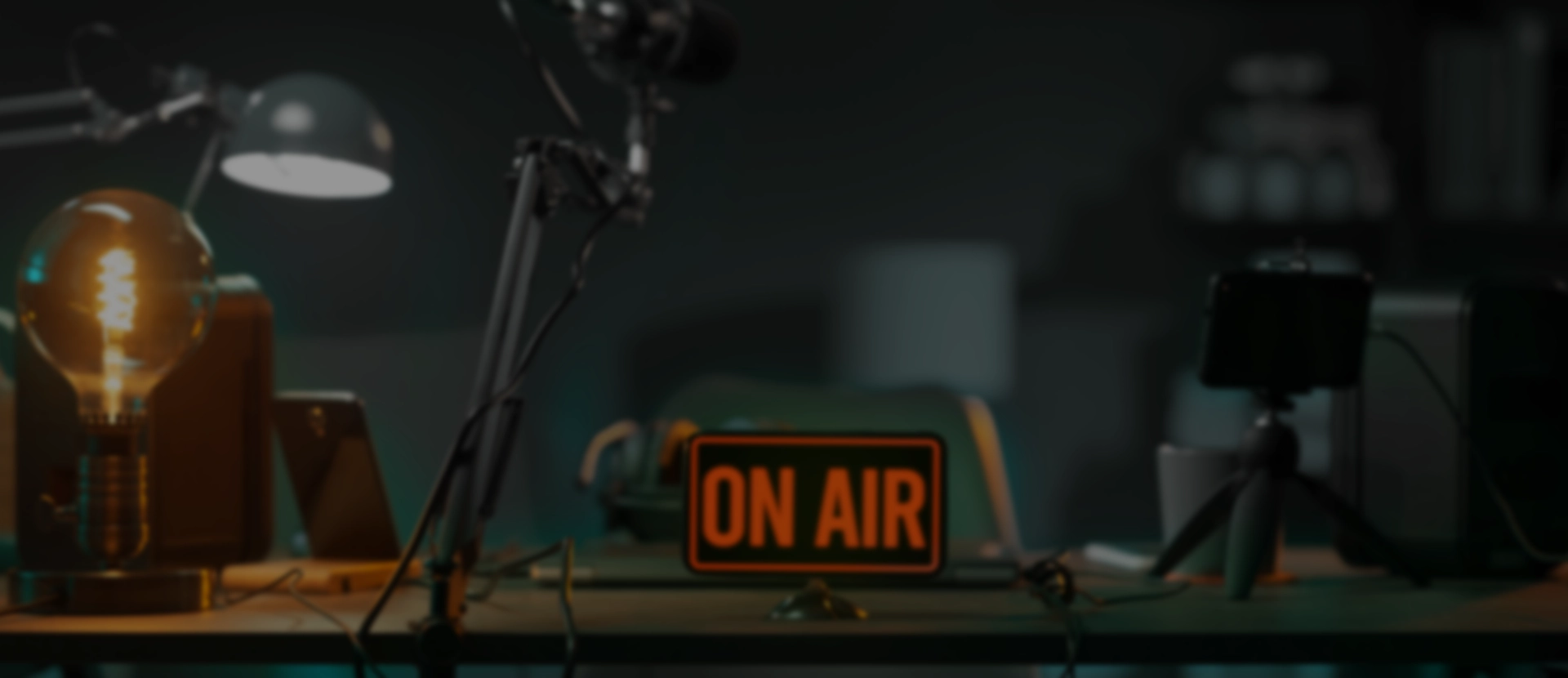 Company news
Interview with CEO Raymond Lamphen: Insights on Omniplayer & Nimbus
Interview with CEO Raymond Lamphen: Insights on Omniplayer & Nimbus
A few weeks ago, Raymond Lamphen, our CEO, was interviewed by Broadcast Magazine. Omniplayer, Nimbus and new trends in Broadcast are just some of the topics they discussed. Here is an excerpt of the original interview in Dutch, which you can also watch in full in the video below. Don't miss out! 
About his career
Originally, I came from the banking world. By chance, I ended up at Media Park, then at Bright Alley. Ton van Mill, Freek van Ooster, that's where I started. Bright Alley merged into the Netherlands Broadcast Production Company (NOB).
Then I joined the NOB AV Expertise Center and worked at the NOB for a long time. NOB was sold first to Technicolor, who sold it again to Ericsson. I stayed until then, just before it became what it is now. I became General Manager at DMC in Amsterdam, still owned by AMC Networks. I used to mention The Walking Dead, and everyone became aware of what we were about. I then worked for myself, and among other things, I did a big project for the parliament in The Hague. Then I spoke to Harold, and we concluded that the role fitted me like a glove.
I think what I really enjoy doing is about change management. If something is in flux somewhere, I'm there. Such integration with a new owner is all about change. Yes, that has an impact on the people who are there. That impacts processes and customers. I knew the corporate quite well, but in the last few years, I've also worked for myself and in a somewhat smaller environment. That's why I think the role fits me like a glove. I speak "corporate" fluently, but I also understand what can happen in a 15-person company. 
Arrival at M&I and Valsoft
Harold told me that he was going to sell M&I and that he was looking for a successor who knew the Media industry, the Netherlands and the customers, but was also used to working in a somewhat larger company. So, we spoke, and in May 2022, M&I was sold to Valsoft, a big Canadian investor, which means I'm now leading this and reporting to Canada directly. 
Valsoft buys companies, lets them grow, gets money from those companies, and buys new companies from that. They started that about 7/8 years ago, and for the last 3-4 years it's been going fast. They now have about 60 software companies around the world, and it's not about the industry but about the kind of software they do. They have a presence in construction, rental, hospitality, media, and all kinds of things really.  
The Media & Broadcast vertical
Well, we are the second in the media Vertical, as they nicely call it. They work with verticals, and Broadcast & Media is one of them. VSN, a Spanish company based in Barcelona, was the first. They're in the media management corner, the MAM business, so to speak. There are about 50-60 people, and mainly focused on the TV side. We were second there and of course we are mainly on the radio side. The third one is Woody, a French company which makes sort of like an assisted and intelligent media WeTransfer with help and intelligence. And that's what they make. The three of us are now Media & Broadcast.  
Interestingly, we can use each other's network on the client side. VSN is very strong in South America because they're Spanish speaking, so that could be an entry point for us in those markets. And it works the other way around, of course. We have quite a dominant position in the Dutch Media Market, especially when it comes to radio, but those radios also make TV. We introduce them to our customers, so that's one piece of the integration. Other than that, we mainly see that we can help each other when it comes to development capabilities. When it comes to project managers or people involved in projects, we can support each other more easily. 
Omniplayer's potential
I think there are two or three things to gain. First, the further development of Omniplayer, the integration with the video side. Radio is no longer the mystique of the past where you just listened, but you also see now with Visual Radio that you are also watching radio, sounds a little crazy, but that is what is happening. I think there is still profit to be made there for us if it is purely about the product. 
In addition, you see a lot of developments of course in the field of Artificial Intelligence. Who's currently escaping from it? If you look at product development, we definitely see development opportunities there when it comes to the product itself. We just finished a new version of Omniplayer, and the market has been waiting for that for quite a long time. We are now going to market that one as well, and I think that will keep us busy for a while in the coming time.  
What we really want to do is roll out the product. That means the product has a different architecture that makes it a lot more robust, stable and performs better. The previous version was already very stable, and you could also integrate more easily with other systems in the same ecosystem. That's why I think there are profit opportunities for Omniplayer in the markets where we are already dominant. 
Growth now must come mainly from other countries, and I also understood that we might want to implement a different kind of service model to make it more interesting for smaller parties. What you often see is that you have to make quite an investment here to use the player, because you have to buy the licenses. That's the traditional model. But of course, now you see a lot of software companies shifting to a SaaS model or a subscription model, and we also want to implement that soon with Omniplayer. 
With Omniplayer, you actually take out a subscription. What you get for that is the right of use. I always say call you can call the moment something goes wrong, and you just pay that one flat fee per year, per month, or per language. That allows you to avoid the high entry-level model. We're not obligated to take that model; you can still choose. But we think it is an ideal entry-level option for modest users. 
Nimbus' future
Nimbus, that other product we come out with, is indeed used a lot by regional broadcasters. With that, we fill in the gap when you talk about newsrooms. It improves the workflow, especially for journalists, since it is a newsroom system that allows journalists to create and publish stories more easily and efficiently. So, in terms of the future of Nimbus, we see it playing an increasingly important role, especially in regional media.  
We also want to expand it internationally and are looking at opportunities to start selling it outside the Netherlands. We think it can work well there too, so those are our plans. Nimbus enables journalists to be able to work from stories. We very nicely call it 'Story Centric', so a journalist creates a story and can use it that way. We saw this need, especially among regional broadcasters. Currently, eight of the twelve regional broadcasters use Nimbus, and Talpa also uses it for programs such as Show Nieuws and Hart van Nederland. That's where we see a growth opportunity since there are many more such programs. 
Now we are also trying to bring Nimbus to the attention of the larger commercial broadcasters. As for the public broadcasters, they often use a different system called Engage, which is used by NOS. We are currently looking at how we can more easily integrate with that, so that public broadcasters can also benefit from Nimbus. Nimbus is certainly also suitable for companies outside traditional broadcasters. Organizations that create and publish content on websites, in magazines, videos, podcasts and so on can also use the Nimbus system. 
Media trends and international expansion
First, we have the media trends, which we have referred to before, such as the main trend of Artificial Intelligence (AI). This is of great importance in software development, and we try to focus our releases on it. And indeed, our growth ambitions extend to the Americas, South America, Australia and Europe. For Omniplayer, our more mature product, it doesn't matter much which region we focus on, because we already have a solid foundation and can manage accessibility for customers worldwide well. We understand the importance of customer service and quick responses, especially when dealing with different time zones. 
As for Nimbus, our product for creating news stories, the focus is currently on the European market because we already have strong customers there, especially among regional broadcasters. However, we also want to explore the possibility of introducing Nimbus in other regions, but this requires specific attention to the unique needs and trends of each market. 
Overall, we are excited about the opportunities to expand our products and services globally and continue to provide value to our customers regardless of their location. We expect M&I to maintain a strong position two to three years from now, especially with its close collaboration with VSN in media management. Valsoft seems committed to retaining local company names and brands, which is understandable given the value of those brands in their respective markets. Working together at the back end allows you to leverage the strengths and expertise of both companies to optimize customer service.